With all the new powers and cash the State of Disaster has given Ramaphosa, the term emperor is not misplaced and it is obvious that he and his ANC comrades are liking their new Totalitarian powers so much, they happily extended the lockdown for two more weeks. This new cloak of powers, is also like the emperor's invisible cloak, as it does not hide the naked incompetence, ineptitude and blind greed that drives the ANC party. Yet still the ANC party prances around in its invisible cloak, pretending all is grand. because to do otherwise would be to admit that they are not only completely out of their depth, but are roleplaying to cover it up.
We have gotten used to the daily figures of positive COVID19 tests from the ANC Health Department no longer including further details, and not bothering with unknowns like "travel history pending", which probably means from China, as recent updates from the health authorities, have included less details than updates did up until 22 March, but now it seems even the ANC does not know where some of the positive COVID19 test patients are from! Any bets that soon they will not include provincial data either?
In yesterday's release the total confirmed cases were given as 1,934, a rise of 89, with the highest daily increase of five more Covid-19-related deaths, raising the death toll to 18, of which 12 are men, according to the latest update from the NICD. However this is all role-play and parading around in invisible cloaks because these simple numbers are probably just the tip of the iceberg, because you cannot know what is out there if you do not test. Many experts concur that the real figure is at least 10 times more, but you won't know if you don't test. Maybe the ANC does not want to know the real numbers and that they are not wearing an invisible cloak, and are in fact naked, because they know they will not be able to cope. Like their Chinese Communist Party counterparts, they would rather work on selling the image of the Supreme Leader and the Party and cover up anything negative.
Is is far easier to flaunt small numbers around, but even here they struggle, as Zuma famously showed with his infamous "seventy eleven". According to the department, Gauteng has the most cases with 782 people, Western Cape 495 (510 according to their own testing results system), KwaZulu-Natal 354, the Free State 88, the Eastern Cape 45, Limpopo 21, Mpumalanga 21, the North West 15 and Northern Cape 13. Apart from the Western Province's mismatch in numbers, a further eleven positive cases are "unallocated" because location details were missing from the testing forms.
As usual the ANC cover up the issue with flowery words and long speeches as befits any emperor parading in an invisible cloak. In words that would fit any wannabe emperor, which he is, Health Minister Zweli Mkhize elaborated with a nonsensical statement:
"South Africans would have noted that as the number of confirmed cases increase, some cases were unallocated by province, age or gender. This is because the NICD not only has the responsibility of analysing data from each laboratory, but has found itself searching for the missing patient information of the confirmed cases.
"This has proven to be an administrative burden that, if not rectified, will hamper our efforts to immediately be in contact with patients who have tested positive, determine whether they require hospitalisation or can be treated in self-quarantine and more importantly trace all other individuals that they have been in direct contact with.
"This is the only way we can flatten the curve: We must know every individual that has been exposed, they must be immediately screened and those that require testing, must be tested without any delay while they remain in self – quarantine.
"If those contacts test positive, we must further identify their contacts because they also become potential positive cases. Simply put, this is a vicious cycle! And without quickly fully identifying confirmed cases and their direct contacts, the spread of the virus will just keep rising. This therefore calls for us to take stringent measures to ensure that we have all the information that is required."
Sounds like an alcoholic admonishing himself for having taken that drink, knowing full well he will do it again… In other words someone stuffed up, but no one in the ANC, or their collaborators in mainstream media, are prepared to say that the emperor has no clothes, so everyone continues with the charade. Ever notice how ANC members very rarely blame each other? The obfuscation and generalization of responsibility, accountability and blame is deliberate, endemic and institutional. This is the ANC culture you learn as you grow through the ranks from ANC Youth league.
Every day the Minister of Health Dr Zweli Mkhize religiously provides the total confirmed cases and the increase in confirmed cases since the previous day and the mainstream media dutifully proclaim it as gospel to their readers. But how much can we really tell from these simple numbers and do they actually mean anything except just a way for the ANC to remain visibly, parading their invisible cloak in public, pretending they are actually doing something?
Confirmed cases are only a fraction of the total real cases in any country. Experts around the world have agreed the real number of cases are up to  ten times the reported cases and the statistics from countries who have been through this bear this out as SA-News reported here. As testing increases the picture will become a bit clearer. However, in the past ten days or so the number of tests have declined from a peak of 8 066 on 27 March to 1,225 on 6 April, despite the 10,000 workers emperor Ramaphosa proclaimed? There is a slight hope this will improve as the regime tries to roll out the modified 45-minute GeneXpert TB testing machines, but once again, this is more grandstanding in an invisible cloak. Already emperor Ramaphosa is making excuses about all countries struggling to get testing kits – the generalisation of responsibility again.
The number of confirmed cases depend entirely on the number of tests that are done and at who those tests are targeted as ideally you want to find potential breeding grounds or "super spreaders". As we have seen in other countries, the more you test, the more positive cases you will find, so a sudden increase in testing capacity will result in an increase in confirmed cases. Depending on the timing, this does not mean that there is definitely explosive growth in the number of cases, only that they are uncovering more of them.
Similarly, it can become easier or harder over time to know who to test. Most of South Africa's early Covid-19 cases were people travelling back from overseas, where they probably contracted the virus. It made sense to focus testing on people with CCPvirus symptoms and who had traveled to affected countries like China, er no, sorry Europe. China can do no wrong remember as their Supreme Leader also wears an invisible cloak. South Africa's travel ban came into effect on 18 March – effectively turning off this source of new infections. Now, as recent overseas travel has become a less important indicator of possible infection, it is becoming harder to know who to test, so let us just concentrate on those small daily updates right? Like the globalist economic indicators or weather reports that keep you in line and on their narrative everyday.
One thing the ANC have been very quick to arrange though, is all the private guesthouses, hotels and other establishments which will be leased to accommodate people who test positive to be isolated in. Milking the taxpayer as usual. We asked the ANC Health Dept. how many private versus public establishments there are but have yet to receive an answer. Of course we dare not ask who owns many of these places…
For the ANC, the CCPVirus is the gift that keeps giving. For instance when emperor Ramaphosa tells cellphone providers to donate a cellphone to each healthcare worker, he knows full well that thanks to cadre deployment, the majority of these workers are ANC voters. Soon we might start calling it the ANCvirus… oh wait, that name is taken…
Speaking of cellphones: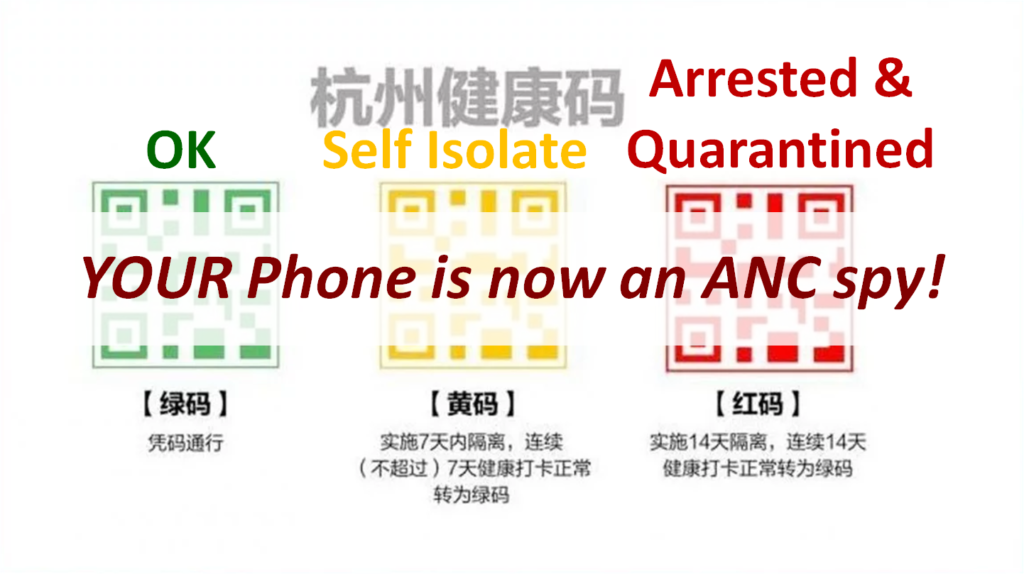 Read also: Despite Six Billion in COVID19 Fund ANC Does Not Test More, Yet Over 40% of People Can Have CoronaVirus Without Symptoms, but Government Only Tests Symptomatic Patients or those with Travel History?
---