What happened to the chart two weeks after lockdown? Nothing. It is becoming increasingly clear that far too much attention is being placed on the small daily test results despite them not giving reliable or sufficient test data, which makes forecasting pointless. While this is understandable given the nature of the invisible threat, the ANC regime did have months to prepare & get testing regimens in place. However even Prof. Karim himself said that it takes two weeks for the symptoms to progress and appear, yet in the same breath he echoes Ramaphosa's bragging that the case numbers fell on the FIRST day of lockdown? Dr. Pillay, head of South Africa's national health department also pointed to the fact that the people tested positive so far only reflect those people who got infected 2 weeks prior to showing symptoms, and then being tested. How then is it possible for infections to drop on day one of lockdown?
Ramaphosa claimed there is "sufficient evidence" to show the lockdown is working, but admitted that it is too early to make a "definitive analysis of the progression of the disease", however they refuse to revealed which datasets, epidemiological modelling, or projections the regime used to make its decision to expand the lockdown. He spoke widely with non scientific parties, including opposition leaders, provincial premiers and representatives of business and labour, but he has not made public what the exact statistics or projections which supported the decision to extend the lockdown from three to five weeks were.
Furthermore, despite having months of warning, it is known that the National Health Laboratory Service (NHLS), that conducts testing on behalf of the ANC regime, is nowhere near close to reaching is target of 36 000 tests per day. According to Dr. Pillay, there are simply not enough test kits and he admitted to Parliamentarians on Friday that the ANC government does not do enough COVID-19 tests to get a true picture of how many COVID-19 infections there are in the country. Yet somehow Ramaphosa claims the lockdown was having an effect from day one?
The NHLS also admitted to Rapport on Saturday that the testing kits that they ordered from the USA have not arrived after a full 3 weeks, but they did not want to tell Rapport how many testing kits they ordered or how many they still have in stock. The shortage in testing kits comes amidst a relatively small daily increase in COVID-19 infections, which could be caused by the shortage of testing. Authorities are simply not testing enough people because they don't have enough testing kits in stock, and there are other known issues with testing kits outlined below.
DA leader John Steenhuisen, said the lack of data on the spread of the virus is concerning. "There's a complete absence of empirical data or detail about which metrics government will use to measure whether the lockdown is successful or not. They're not playing open cards with the public."
The regime claims that they are testing about 5,000 people daily at the moment and have an army of community workers out in the community, but these workers do not test, they only refer people for testing. So this screening process at the moment will only test people if they show symptoms of COVID-19. This method will bypass people who are COVID-19 positive but who don't show symptoms yet, although they can still infect other people whilst unaware they have COVID-19. This is why it is important for wider testing to be done with more efficient testing regimens. There could be many more people who have COVID-19 but just don't know it yet. So any current assessment really reflect the situation 2 weeks ago.
The RT-PCR test performed with throat swabs are only reliable in the first week of the disease after which the virus can disappear down the throat while it continues to multiply in the lungs. For infected people tested in the second week, alternative sample material should then be taken from the deep airways by suction catheter or coughing up material (sputum) can be used. The samples also need to reach the labs within hours.
We know that Jack Ma from Alibaba donated a million testing kits from China to Africa, so how many did South Africa get or did they all go to Ramaphosa's AU friends? In March 2020 China reported problems with accuracy in their test kits and revised their positive diagnoses definition.
As SA-News reported, Spain purchased test kits from Chinese firm Shenzhen Bioeasy Biotechnology Co Ltd, but found that results were inaccurate. The firm defended this by blaming Spain for failure to collect samples properly or use the kits correctly. The Spanish returned the kits that gave incorrect results, and would replace them with a different testing kit provided by Shenzhen Bioeasy aswell.
80% of test kits the Czech Republic purchased from China also gave wrong results and Slovakia purchased 1.2 million test kits from China which were also found to be inaccurate. Prime Minister Matovič suggested these be dumped into the Danube River!
Ateş Kara of the Turkish Health Ministry said the test kits Turkey purchased from China had a "high error rate" and did not "put them into use." Likewise, the UK purchased 3.5 million test kits from China but in early April 2020 announced these were not usable.
It is almost as if China wants other nations to fail?
Prof. Karim also admitted that the virus came from abroad, so at the end of the day, had ANC closed the borders earlier, a lockdown would probably not have been needed.  A senior government official present at the decision-making process said on Saturday that Ramaphosa was informed "by the best brains in the country" before he made decisions and that extending the lockdown was based on scientific evidence presented to him. He said the numbers which swayed Ramaphosa were "scary", and added that government did not want to create panic.
So unless the bodies start piling up in the next week or two, and if the test results are in fact an accurate reflection, as the government projections claim, then the extended five-week national lockdown could well have succeeded in delaying South Africa's worst-case Covid-19 scenario to September, when winter and the associated annual flu epidemic will exacerbate things… #WinterCometh…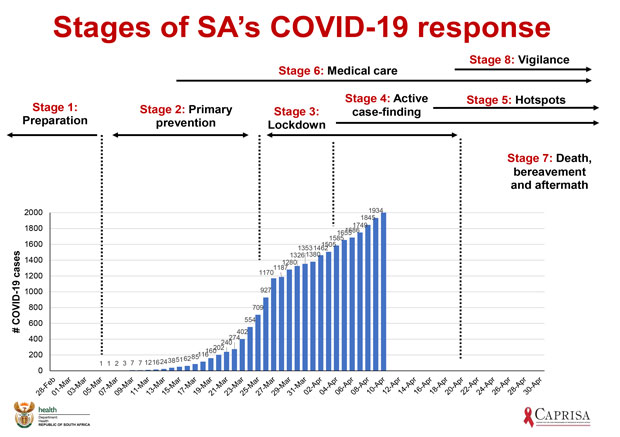 See also: Despite Six Billion in COVID19 Fund ANC Does Not Test More, Yet Over 40% of People Can Have CoronaVirus Without Symptoms, but Government Only Tests Symptomatic Patients or those with Travel History?
---