Please fill in your details below and you will be contacted with a quote to discuss Funeral Cover options:
Once we receive your details an adviser will call you. Thank You.
---
Leading Funeral Cover for less – No medical examination required Funeral Cover, clear and simple.
Why you should choose us?
– Cover from only R99 per month
– Up to R110,000 paid within 24 hours
– Family and individual plans available
– Additional grocery and memorial benefits included
---
Verseker Jouself Begrafnis: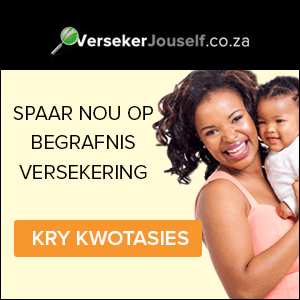 ---
Clientèle Funeral Dignity Plan:
From R99 per month.
Over R110,000 family cover from as little as R2 per person per day.
Cover up to 13 people on 1 plan.
Pays out within just 24 hours.
R200 Free airtime when you claim.
Includes a grocery and unveiling benefit.
Enhanced Benefits: We will put you in touch with a 24 hour helpline. Professionals will assist you with various aspects of funeral arrangements, like grief counselling, repatriation of the body and discounted rates with various funeral suppliers.
Send us your details here and we will call you!
Clientèle Ultimate Dignity Plan:
The only funeral plan that pays back all your premiums. Your beneficiaries receive the full cover amount plus all the premiums for the deceased member, with a valid death claim.
NEW BENEFIT: Half of your premiums back at age 65 Clientèle now gives you the option to receive 50% of your premiums back in cash at the age of 65. The money can be used to ease the pressure of not earning an income anymore. The remaining 50% of premiums paid will be paid back to the beneficiaries upon death. This benefit only applies to members who join before the age of 50.
From R120 per month.
Up to R50,000 individual cover.
Up to R250,000 family cover.
3 Children covered at no additional cost.
Pays within 24 hours.
R200 free airtime.
Includes grocery, unveiling and transport benefit.
Cover up to 13 people on 1 plan.
24 Hour funeral helpline.
Also includes an Unveiling Benefit of R2,000 and transport benefit of R2,000 to assist with travel arrangements for the funeral
NOTE: Applicable to existing and new policy holders.
Send us your details here and we will call you!
Funeral Cover

---
---

---
---
---