#BetterUnderApartheid Do you wonder why the ANC and blacks in general are so keen to jump on the "beat the dead Apartheid donkey" bandwagon? Well, they do not want scrutiny, or accountability for the corruption and sh*thole they have turned South Africa into, especially when being compared to the first world standards it used to have in the Apartheid era,which saw Africans risking their lives crossing crocodile infested waters, to get INTO Apartheid RSA! For example, Randfontein's people have now given their own ANC run town a different name, they say they stay in K*kfontein these days. It's no joke either. Come smell the air here they say.
Matiam van Vuuren says the smell of raw sewage that stuck to his braaivleis back in 2016, was the last straw for him. He went down to the Police station and opened a criminal case in terms of Article 151 (1) of the Water Act, against municipal officials, who have willfully or by neglect allowed widespread pollution of rivers and dams in the area. Van Vuuren says there is still rubbish, raw sewage and dead fish in the Rietspruit dam in Uniepark. He says the years long terrible stench around rivers and dams caused by raw sewage in the water has led to the people of the town renaming their town to a somewhat "smellier" name. They certainly had reason to.
Netwerk 24 visited the town recently to smell the air for themselves, and advised motorists to tightly shut their windows on the corner of Greenhills lane and Raven Way, because the stench of rotten water hangs thick in the air. On the surface of the pitchblack dam there is oil and an unknown white substance floating on the water. Near the dam is a ditch where raw sewage is oozing out. Raw sewage is also flowing into the Rietspruit. Van Vuuren says that farmers used the water sources in the past for crops and animals, but today the water is not fit for human or animal consumption!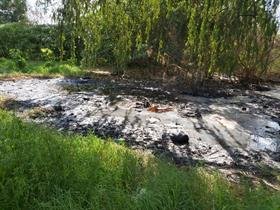 Van Vuuren says his neighbour's calves were born dead because of the dirty water. It is now four years since Van Vuuren laid his criminal complaint and he finally managed to get the national department of Environment, Forestry and Fisheries to co-operate, and with the help of the Green Scorpion unit of the department, the case is now at last ready for trial in the local regional court. Van Vuuren says there is a strong case and that there is evidence like water samples. According to him the case will proceed on 8 April and that Themba Goba, the municipal manager, is also charged in his private capacity in terms of the Water Act.
ANALYSIS: It is highly commendable what this gentleman has done for his community as it is necessary to try and force accountability amongst the black majority, although at the end of the day, any punitive fines will still be paid for by the taxpayers. But there is certainly a larger picture here to take note of. That is to look simply at the way things get done in Africa in general, which can be summed up with Thabo Mbeki's term #TheAfricanWay. We have seen how the ANC and it's sidekick, the EFF, have made it illegal for any white person to serve in top management positions in South Africa. We have seen how the most important qualifying characteristic one must have to serve in a top position is being black.
So with that in mind let us look at #TheAfricanWay in more details. Yes, there are laws like the Water Act in South Africa. But a main feature of #TheAfricanWay is selective prosecutions. They make the lofty laws, then don't enforce it. During Apartheid we had some of the best laws in the world against money laundering and then Zuma and his tsotsis, employing #TheAfricanWay, captured everyone involved in law enforcement and prosecutions process, and suddenly the Guptas could carry hundreds of billions of stolen loot out of the country.
#TheAfricanWay means laws they make don't get enforced in the end.
#TheAfricanWay is slow decay and rot and continued looting as if there is no tomorrow.
#TheAfricanWay is black Africans clearly not caring for anything but chasing instant wealth. They certainly don't care about the next generation.
#TheAfricanWay is not taking responsibility but instead perpetuating victimhood and creating narratives and blaming the white man in the end, when everything inevitably comes to ruins and bankruptcy.
The question that needs to be asked is how many other small and large towns have turned into K*kfonteins? Has South Africa itself not been turned into one big K*kfontein, if you look at the rot, crime and destruction all around us?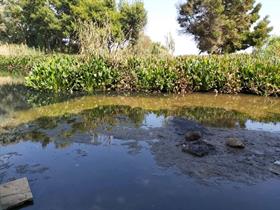 See also: #TheAfricanWay: Orange Free State Too Dangerous To Live in? Winburg & Kroonstad Have Dead Pigs & Raw Sewage in River & Dam, Too Polluted to Purify!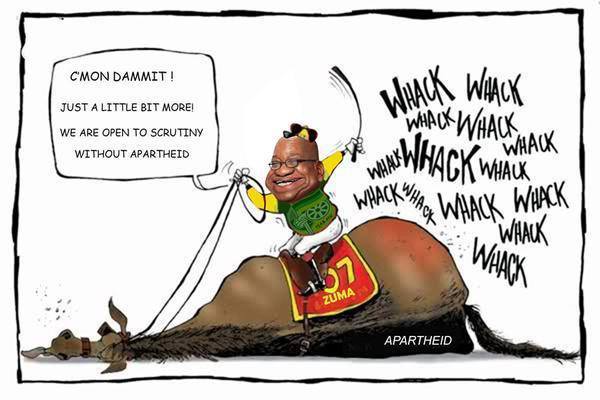 ---