The ANC regime in Limpopo emptied a dilapidated TB hospital in Nylstoom to house COVID-19 positive people, but the first 3 people locked up there never even saw a doctor, were given dirty rooms and had to take their own temperatures! Dr Claire Olivier, Dr Taryn Williams and Elmarie van Emmenis (64) were all suddenly released from the ANC Gulag on Wednesday morning less than a week after being locked up there!
They were forced into the MDR TB hospital in Nylstoom last Thursday by the Limpopo Department of Health, after testing positive for COVID-19. They were all self isolating at home before they were arrested and forced into the MDR hospital, where they all reported that the rooms that they were kept in were dirty. Van Emmenis said she had to take her temperature herself and a nurse phoned her to get her temperature every time. A doctor also did not come to see her. Van Emmenis was already in self isolation on her farm for a period of 2 weeks before her detention in MDR hospital. She tested positive on 29 March.
Hennie Erwee, Mrs Van Emmenis's lawyer, wrote a letter on Tuesday to Phopi Ramathuba, the MEC for Health in Limpopo, who had said that even if she was Bill Gates, he would have to be kept in a state facility (see on video below)! He demanded that his client must be freed on Wednesday because the State has not provided documents as to why his client should be locked up. The legal representative of Dr Olivier and Dr Williams also handed in opposing arguments at the High Court in Polokwane which had previously granted a court order to allow the Limpopo Health Department and the Police to arrest and detain the 2 doctors.
Watch the video of the 2 doctors being arrested and locked up in the hospital:
Watch video here if video does not load above: https://www.youtube.com/watch?v=yBqEP9G7_uY
Serious questions must now be asked as to why and how a High Court could have agreed to this illegal action in the first place. The national emergency regulations does make it possible for people who don't have serious COVID-19 symptoms to self isolate. It's only Limpopo which chose such a draconian approach to lock people up against their will. The MDR hospital, a TB hospital, was emptied for COVID-19 patients but after the release of these first 3 patients, is empty again. The Limpopo Health Department did not want to answer Netwerk24's questions with regards to where the TB patients were moved to.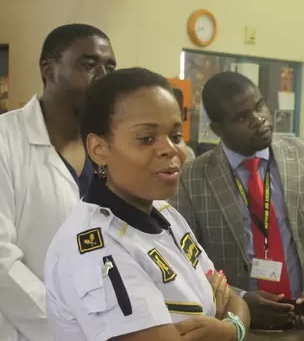 Phopi Ramathuba, the MEC for Health in Limpopo
See also: Doctors at Nelspruit hospital can't perform a simple splint procedure! After 3 attempts, anesthesia did not work and hand grows on skew   
---