As the Coronavirus infection rate shows no sign of letup in China, and if we can trust the figures, there are now 31,440 infections and 639 deaths, with 64,000 close contacts under medical observation. It is two now weeks later, which was supposedly the incubation period, and it is now high time that SA stop flights from China!
The Department of Health claims it has received a report on the conditions in China, but informed sources indicate that the Chinese government, like all good communist governments, are not disclosing the full condition, and that the conditions are far worse than released. Likewise, being a communist regime, the ANC government is being far from transparent and forthcoming, however in this case, it is not so much to save face for "The Supreme Leader", but more ineptitude, lack of knowledge and plain simple shortsightedness – all the usual things we have learnt to hate about the ANC regime…
While there have been rumours of suspected cases in KZN and one in Limpopo floating around, the KZN Health Department says the province is aware of two suspected coronavirus cases and has stressed that there is no laboratory confirmation. One of the cases is being handled at a state hospital, the other at a private facility. The Department says it is monitoring the treatment and management of these patients closely. It also appeals to the community to remain calm and avoid "being misled by false statements being peddled on social media". We will bring you more information as it becomes available. Essentially we are now where China was a little over two weeks ago and already the ANC regime is sounding like the Communist Chinese government.
Although the government and the Department of Health boast that they are ready to prevent the corona virus from spreading in SA, there are serious concerns, and not only about the poor conditions in hospitals in the country.When it comes to an infectious disease, especially one that has no cure yet, it is paramount to separate those who have, or might have the disease, from those who do not. As we previously reported, it is doubtful that Africa has the means or capacity or ability to detect, never mind treat or cope with a huge outbreak, and it will inevitably just be left to run its course, which would be catastrophic. The important point here, is that if treatment or cure is questionable, prevention is paramount! Sadly however preparedness and preventativeness is not something the ANC is interested in, as all South Africans can attest to. China is a very well managed, obedient and highly disciplined nation, the ANC's new South Africa, is almost the exact opposite…
Rather Safe than Sorry
The KZN Province's Health MEC, Nomagugu Silelane-Zulu is pretending that they know for a fact that there are no cases whatsoever, and refutes irresponsible and sensationalist reporting by some news media claiming it has created a false impression that there are two possible cases of the coronavirus in the province. Two patients who exhibited symptoms similar to the virus are being held in isolation as a precautionary measure. According to SABC News the Limpopo case was quarantined but Dr. Pillay said that is not the case. So is the National Broadcaster itself wrong?
This is exactly what happened in China, the communist regime who were so desperate to save face, would rather spend time and energy squashing rumours, or even arresting activists, than deal with the problem timeously. The Chinese Doctor who tried to warn China about the virus back in December, but was ignored, has now died from the virus himself.
3 new case in Taiwan yesterday highlighted the danger clearly: Two infected people are a couple who never went to China, they flew to Europe from Hong Kong and the Authorities believe they got the virus in the confined conditions of the plane. Likewise, Hong Kong has 5 confirmed cases and none of them have been to China or had contact with people from China.
Dr. Anban Pillay – Director General at the Department of Health says that they are screening people at airports, using two mechanisms and otherwise 30 or 40 people a day raise attention nationally, but they are not isolated as the government is only interested in detecting severe cases. China is also only concentrating on severe cases and symptoms, so there could be many more that are not being detected. As it is, it is known that Coronovirus is infectious before symptoms present. This could make it a perfect storm.
Multiple scientists have said the numbers in China are tens of thousands more than the Communist Chinese regime is admitting. According to Neil Ferguson from the MRC for Global Infectious Disease Analysis, there could be as many as 50,000 new infections a day in China, most of which are not severe cases, which remain under the radar. Other professionals like Tom Inglesby from Johns Hopkins as said it looks like the virus is uncontainable due to these factors: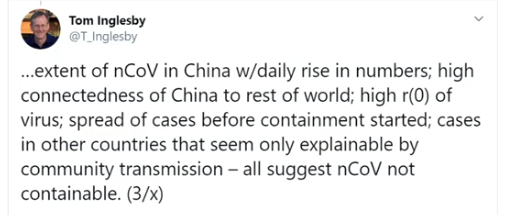 The SA Mission in China has called on all South Africans in China to register so that the authorities can determine exactly how many SA citizens are in the affected country. The call comes as the government claims it is keeping a watchful eye on the situation, but Afrikaans-speaking people in China say they are getting no cooperation or support from the government in South Africa.
Dr. Anban Pillay said that if SA students in China are returned to SA, they will be quarantined for 14 days, however if someone is already infected they will not be returned.
Dr. Pillay also said they have not got any case that's positive in SA, neither do they have any case that meets what they call the "full case definition". In other words, an individual that has been to the area of the epicenter of this outbreak, or has been in contact with people in the epicenter and is within the incubation period, or thereafter, presenting with symptoms.
That really is a high benchmark for a virus that has already shown cross community infection, especially from people that have not been to China yet are infected. This is imply irresponsible.
Dr. Pillay explained the benchmark as basically someone who presents with a fever, a sore throat and some sort of chest infection, and some mucosal infection as well, would obviously be an individual to consider. But, in addition to that, they would have to have traveled to the area where the epicenter is, Wuhan City or to the Wubei province within China, or other areas within China, where the outbreak is known to have occurred,  or be in contact with people from that area.
He said that would be the the primary reason why they would suspect such individuals, but as a precautionary measure they are testing other individuals as well, just to be sure that they are excluded in terms of coronavirus.
But they are NOT quarantining these cases!
The Doctor also said "There are many cases that we are getting from doctors, private and public, calling into our hotline presenting us with with a clinical picture of the patients, but none of those patients so far met the "full case definition" because if they made the case definition, even before us actually doing the testing, we would isolate those patients, put them into some sort of a quarantine environment until the results come back, which usually takes about 24 hours. 
There are about 30-40 a cases a day where the alarm has been raised about patients, but I'm happy that the clinicians have a high level of suspicion and surveillance, so the likelihood of us detecting a case early will be much better, when there are clinicians that do that."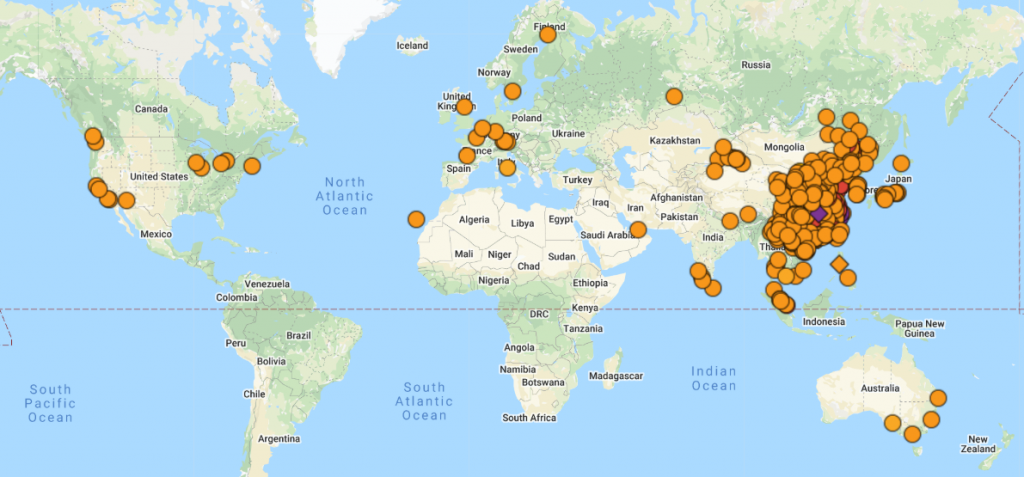 Current infections – note South America and Africa are blank, but this does not mean there are no infections, as Australia has some with a similar climate. So it is just that cases have not been tested.
See also: "Africa is #CoronaVirus' Most Vulnerable Target" Because a Million Chinese Work in Africa, Where They Probably Can't Even Diagnose The Virus!
---